Buck's Art Stops for Good at UCI
Wednesday, November 15, 2017
Share this article: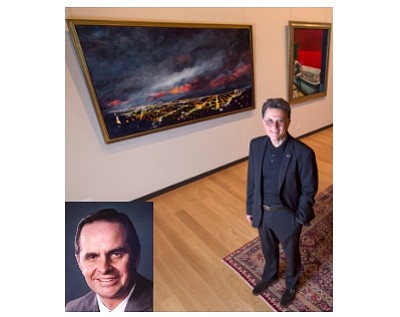 The University of California-Irvine announced today that it's received a collection of California art from the trust of Gerald Buck, a Newport Beach developer. Buck died at age 73 in 2013. He created the Hon Development Co. in 1979. A division, Foothill Ranch Co., would go on to be the major developer of that 2,700-acre portion of Lake Forest.
The Buck art collection is valued at tens of millions of dollars, includes classic California Impressionism, a large Los Angeles night cityscape and an iconic freeway series of paintings.
Buck, who built sprawling suburban communities from Southern California farmland, amassed more than 3,200 original works, but never displayed them publicly beyond lending some pieces to museums.
"The Buck Collection cements UCI's mission to create one of the nation's finest centers for the appreciation of California art," UCI Chancellor Howard Gillman said, in a release. "For nearly three decades, these beautiful and important pieces have been kept mostly under wraps. We can't wait to exhibit these gems to the public."
Buck created the most comprehensive private collection of California modern art in the world, according to dealers and curators, comprising a who's who of artists from a century ago to contemporary powerhouses, such as Richard Diebenkorn, David Park, Joan Brown, Gilbert "Magu" Lujan and Sam Francis.
"This is undeniably the greatest collection of California art ever assembled in private hands," said Malcolm Warner, executive director of the Laguna Art Museum in Laguna Beach.
Buck's daughter, Christina, said her father wanted the paintings, sculptures and his large library given to an institution with extensive research programs in the arts, where the public and scholars could view and study the works.
The collection will eventually be displayed in a new building on the UCI campus, where architect William Pereira planned a museum in his original designs, UCI said.