JWA September Traffic Down
Friday, November 10, 2017
Share this article: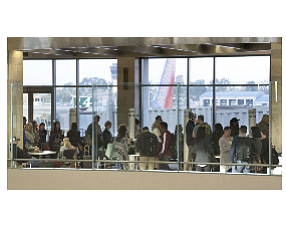 John Wayne Airport passenger traffic edged down 1.6% in September compared with the same period last year.
About 853,500 passengers moved through JWA's gates in the month; 867,000 did so in September 2016.
Numbers for the first nine months of 2017 are also down 1.6%, to 7.7 million from 7.82 million year-over-year.
The airport has seen monthly traffic rise and fall in the 1% to 2% range for much of the year as it holds steady on an annual passenger count capped at 10.8 million a year until 2021, when it rises by 1 million.
Commercial flights at the airport in September were essentially flat at about 3,800.
International passenger traffic is way down—37% for the month and 36% for the year—which reflects in part the recent decline in Southwest Airlines activity to Mexico.
John Wayne had about 90 international commercial flights in the month and has seen about 900 for the year.
The three busiest airlines by passenger count at JWA in September were Southwest with 345,000; American Airlines with 135,000; and United Airlines with 120,000.