Five Honored With General Counsel Awards
Wednesday, November 8, 2017
Share this article: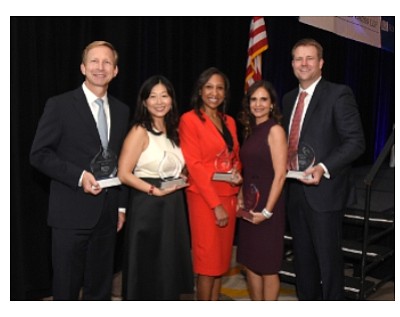 A crowd of more than 400 members of Orange County's corporate and legal communities gathered to honor this year's top in-house lawyers at the Business Journal's eighth annual General Counsel Awards.
The event, held Nov. 8 at Hotel Irvine, honored four lawyers and one legal team in five categories, with Erwin Chemerinsky, the founding Dean at University of California-Irvine School of Law, serving as master of ceremonies. Chemerinsky became the 13th Dean of Berkeley Law in July.
The honorees, selected from a record pool of 50 nominees, were:
• Robert Davis, senior vice president and general counsel of Glaukos Corp. in the Public Company category
• Jenny Wang, general counsel at MerchSouce LLC in the Private Company category
• Ursula Guzman, vice president, employment counsel at CoreLogic Inc. in the Specialty Counsel category, a new award this year
• Sheniece Smith, associate general counsel at Children's Hospital of Orange County in the Rising Star category
• PIMCO LLC for its In-House Legal Team
The Business Journal will profile each of the honorees in our Nov. 20 issue.