Most OC Carmakers Down in October
Thursday, November 2, 2017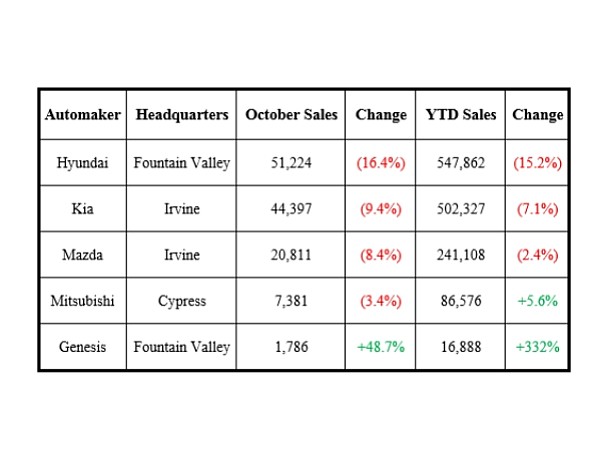 Most OC-based automakers saw lower car sales in October and year-to-date.
Hyundai Motor America, Kia Motors America Inc. and Mazda Motor of America Inc. saw declines for the month and year-to-date; Mitsubishi Motors N.A. Inc. had lower sales in the month but is up for the year.
Hyundai's Genesis-branded vehicles, which report separate results, saw big gains in both monthly and year-to-date numbers.

U.S. carmakers sold 1.36 million vehicles in October, down about 1.3%. Analysts had expected a steeper decline and the news was generally well-received.

The unexpectedly strong national sales for the month came as buyers replaced vehicles lost in hurricanes that hit Houston and South Florida, and average discounts per car offered by dealers rose 16.5% to about $3,500.
The roughly $500 increase in discounts was four times higher than the $125 hike in average car prices.
Reports also cited higher consumer confidence and stock market levels, and low unemployment and gas prices.
U.S. car sales are expected to decline for the full year—to 17 million, down from 17.5 million—after seven consecutive years of growth.
Trucks and SUVs make-up about two-thirds of all vehicle sales.