El Pollo Loco Q3 Mixed
Thursday, November 2, 2017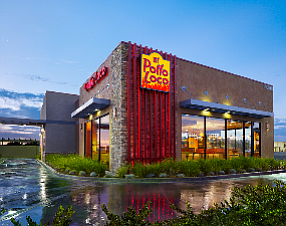 El Pollo Loco Holdings Inc. in Costa Mesa reported a net loss of $4 million on revenue of about $101 million in its most recent quarter, compared with net income of about $5 million on revenue of $96 million last year.
Shares traded about 7% lower after-hours to a market cap of about $410 million.
Net income was affected by a $16 million pre-tax expense from "the full impairment of the assets of 10 restaurants" and closing three locations.
The fast food chicken chain said quarterly revenue was $500,000 lower due to Hurricane Harvey in Houston. It doesn't have locations in Florida, which also had a hurricane this summer.
Same-store sales were up about 2% systemwide.

El Pollo Loco expects diluted net income of 61 cents to 63 cents per share in its full year, down from 66 cents a share last year.
The chain has about 470 locations in California, Arizona, Nevada, Texas and Utah; about 50 are in OC.
It ranked No. 4 on the Business Journal's list of restaurant chains based here, with $795 million in 2016 systemwide sales.