Two Firms Return Long Beach Airport RFP
Wednesday, November 1, 2017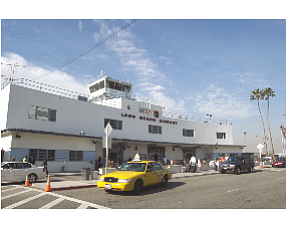 Ross Aviation and Gulfstream Aerospace Corp. responded by a Nov. 1 deadline to a Long Beach Airport request for proposals on the development of 31 acres near the facility.
Denver-based Ross bought the AirFlite fixed-base operations at the airport last November. AirFlite was a unit of Toyota Motor Sales, which sold the FBO as part of moving its North American headquarters from Torrance to Texas, a process it completed this year.
A fixed-base operator provides fuel, hangar space, and aircraft parking, rental and maintenance, among other services, to owners of small planes and general aviation charter carriers.
Ross' Long Beach operations have about 130,000 square feet of hangar space, and a four-story terminal with lounges for pilots, crews, clients, conference rooms and passenger areas.
Principal Jeff Ross is also a managing partner of CapEx LP, a $60 million debt and equity fund in Denver.
Savannah-Ga.-based Gulfstream is part of West Falls Church, based-General Dynamics, a defense contractor with about $31 billion in revenue and $3 billion in net income.
Gulfstream designs, builds, sells and services business jets; its Long Beach facilities include 325,000 square feet of aircraft completion and service area, maintenance facilities, offices, and work space. It has about 850 employees there, and 13,000 companywide.
The city of Long Beach, which owns the airport, said a response by only a few bidders was somewhat expected because of the restrictions on the project, which is devoted to aeronautical uses without generic real estate components.