Big Plans at Taco Bell
Friday, May 26, 2017
Share this article: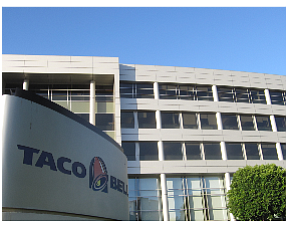 Taco Bell Corp. again updated mid-range goals at its annual investor and analyst day this week with big plans for annual revenue, international expansion and unit totals.
The fast food chain is headquartered in Irvine and part of Louisville, Ky.-based Yum Brands Inc.
Taco Bell wants in the next five years to
• go from $10 billion to $15 billion in annual sales
• about double the number of countries with Taco Bell locations
• add locations at a clip 2.5 times faster than the last five years' rate.
Taco Bell reported 2015 systemwide sales of $9 billion for the Business Journal list of OC-based restaurant chains and this week said annual revenue is about $10 billion; the next OC-based restaurant list is June 26.
The chain has about 350 locations in 22 foreign countries; it wants about 20 more countries over five years with 100 locations each in Brazil, Canada, China and India— "billions of people and a strong youth culture," Melissa Lora, president of Taco Bell International, said in a press release—and growth in Spain, Guatemala, South Korea and the U.K.
The chain in October said it would double its units in Spain in the five year period; its first China location was announced in March 2016; it signed in June 2015 a deal to franchise in India and one in April 2015 to open the first locations in Japan not on U.S. military bases there.
Taco Bell currently has about 6,650 locations total and wants to get to about 9,000 in five years—2,350 more, and an average of 9 a week for that period.
It added about 850 locations from 2012 to 2016.