Hill Gets Nonprofit's Award
Monday, May 22, 2017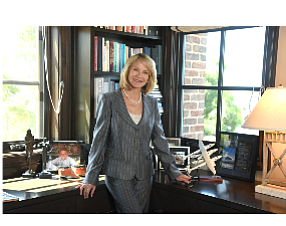 Human Options gave its 2017 Dove Award to Julie Hill at its "Serious Fun" gala at Balboa Bay Resort on Saturday.
The Irvine-based nonprofit serves domestic violence victims; last year marked its 35th year of operation.
Hill, a past board chair of the group, has supported it since 1993. As chief executive of U.S. operations for U.K.-based builder-developer Costain Homes she helped lead a public-private partnership that built Human Options' emergency shelter, specifically designed for domestic violence victims, the nonprofit said.
The nonprofit said she led Human Options' board through a period of "substantial" growth.
Hill's career includes founding Hiram-Hill Development, a land-development company in Newport Beach and Newport Beach-based consulting and investment firm Hill Co. She's also served on several corporate boards, including insurer Indianapolis-based Anthem Insurance Companies Inc. and took over the reins of the University of California-Irvine Foundation this month.
The gala raised more than $500,000 for Human Options, according to committee co-chair Wendy Peterson.