OCVA Focus: Mideast, Mexico
Friday, May 19, 2017
Share this article: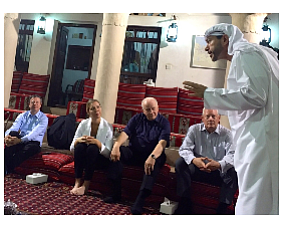 Orange County Visitors Association worked in the Middle East in March and plans new efforts in Mexico, through a California tourism team's visit, to tell business travelers and tourists they're welcome locally.
The moves come amid political turmoil about whether visitors from those regions should come to the U.S.
"People are anxious," in those areas, said OCVA Chief Executive Ed Fuller. "We're meeting with them and saying please come."
Work for markets in six countries—Saudi Arabia, United Arab Emirates, Bahrain, Qatar, Oman, and Kuwait—took the form of trade show work, meeting with tour operations, and media interaction, and was the subject of a column, which Fuller contributes to Forbes.
A monthly report on OCVA's reach in the Middle East following the efforts showed April results for media play and website and social media traffic exceeding the previous three months combined.
"The Middle East matters when it comes to tourism and spending in Orange County," Fuller said.
Irvine-based OCVA now plans participation in a coming state-level tourism mission to Mexico; Fuller said Visit Anaheim also has an executive on the group going there.
OCVA is a member-funded destination marketing organization that promotes Orange County for travel and tourism.