Midday Stock Roundup
Wednesday, May 17, 2017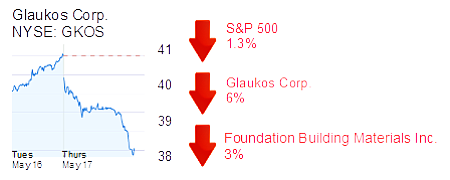 Stocks indices declined in midday trading on political turmoil between the FBI and President Trump, and its possible effects on the administration's economic proposals.
The S&P 500 was down 1.3% to 2,369.23. The Dow Jones Industrial Average was down 1.4% to 20, 694.32. The NASDAQ was down 1.8% to 6,057.86.
The yield on a 10-year Treasury bond fell 4.6% to 2.22%.
The price of gold rose 1.9% to $1,259.
HEALTHCARE
Glaukos Corp. in San Clemente was down 6% to $38.12 and a $1.3 billion market cap. The company makes a stent to treat glaucoma.
REAL ESTATE
Foundation Building Materials Inc. in Tustin was down 3% to $14.61 and a $626 million market cap. The firm distributes building products that include wallboard and suspended ceiling systems.