OCers Get Ellis Island Awards
Friday, May 12, 2017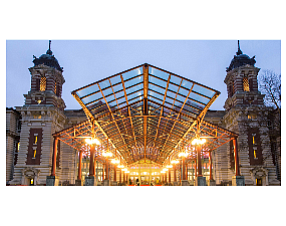 Several Orange County residents, as well as others with ties to OC, are recipients of the 2017 Ellis Island Medal of Honor.
The award is given annually by the New York City-based National Ethnic Coalition of Organizations (NECO) to a U.S. immigrant or native-born citizen who has made significant contributions to a local community, the nation or the world, through professional accomplishments and service to humanity, according to the organization.
Locals getting the award this year include
Paul Musco, founder and Chairman of Santa Ana-based Gemini Industries Inc.;
Emile Haddad, CEO of Aliso Viejo-based FivePoint Communities Inc.;
M.C. Sungaila, an appellate attorney with Costa Mesa-based Haynes & Boone;
Anne Shih, chairwoman of the board at Bowers Museum in Santa Ana;
Buzz Aldrin, an astronaut and former Orange County resident; and
Garo Tertzakian, an urologist and managing partner at Associated Urologists of Orange County in Santa Ana, who trains doctors in his native Armenia.
All 90-plus recipients will receive the award in a ceremony on Ellis Island on May 13.
The organization's mission is to advocate for positive change in the present and to build strong leaders for the future.
NECO said Ellis Island Medals of Honor annually pay tribute to the "ancestry groups" that comprise America's "unique cultural mosaic."