Hotel Developer to Lay Off Staff
Friday, May 12, 2017
Share this article: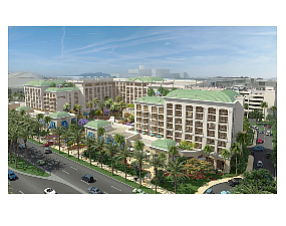 FJS Inc. said in a regulatory filing it would cut 121 jobs in Anaheim.
The company is an affiliate of Hong Kong-based Wincome Group, which owns Anabella Hotel. Anabella is a 358-room, $99 a night property that's being demolished and replaced with a four-diamond-level property with about 600 to 630 rooms in a project estimated to cost about $225 million.
FJS filed a Worker Adjustment and Retraining Notification (WARN) with the state Employment Development Department; a WARN is required for companies with 75 or more part or full-time employees that plan " layoffs or relocation of 50 or more employees within a 30-day period."
A news report said Wincome would try to transfer employees to other properties it owns or manages, including Anaheim Hotel—which is also expected to be replaced with an upgraded, $208-million hotel at some point—and Avenue of the Arts Hotel in Costa Mesa, which has been approved by city planners to add 150 rooms to its current 238.
The new property on the site of Anabella Hotel is scheduled to open in 2020 with the expanded room count, 41,000 square feet of meeting space, 23,000 square feet of retail and restaurant space, and a rooftop bar.
Anabella is on West Katella Avenue, adjacent to Anaheim Convention Center; Anaheim Hotel is on Harbor Boulevard, across from Disneyland Resort.
Wincome's purchase of two older Anaheim Resort Area hotels and their planned redevelopment into the four-diamond level properties, which will qualify for bed tax rebates from the city, represents an investment by the developer of more than $500 million.