Midday Stock Roundup
Monday, May 8, 2017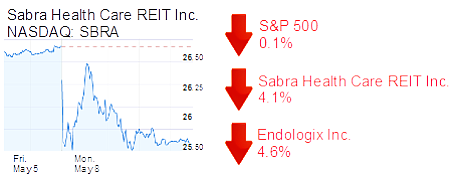 The S&P 500 was down 0.1% in midday trading to 2,398.09
The Dow Jones Industrial Average was flat at 21,008.49.
The NASDAQ was flat at 6,098.83.
The yield on a 10-year Treasury bond rose 1.3% to 2.38%.
The price of gold was flat at $1,227.
HEALTHCARE
Sabra Health Care REIT declined 4.1% to $25.60, or $1.7 billion market cap. Sabra of Irvine and Care Capital Properties of Chicago said they will combine to form a company with an announced equity cap of $4.3 billion. Care Capital shares rose 6.3% to $28.48.
Irvine-based Endologix Inc. dropped 4.6% to $30.58 and a $592 million market cap. On May 4, the maker of endovascular stent grafts widened its expected GAAP loss for 2017. The stock is still up 31% this year.