FivePoint Eyes Buyback of Broadcom Campus
Monday, May 8, 2017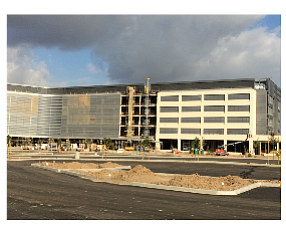 FivePoint Communities Inc. confirmed it is considering buying back the under-construction campus of Broadcom Ltd. at Irvine's Great Park Neighborhoods.
The Aliso Viejo-based master developer said in regulatory filings that it's evaluating whether it intends to exercise a repurchase option it has to buy the offices going up at the under-construction site, as well as excess land that it sold to the chipmaker in 2015.
As part of the transaction, two of the buildings now under construction at the campus, totaling about 640,000 square feet, would be leased back to Broadcom.
The deal, if it were to go through, would be for roughly $443 million, FivePoint said in regulatory filings related to the company's pending initial public offering.
The Business Journal reported last month on industry speculation that FivePoint was considering such a move.
The local office of Hines Interests LP is believed to be the leading candidate to buy the 1.1 million square foot office campus now under construction on the 73-acre site, which includes excess land that could hold another million square feet of buildings, if FivePoint doesn't exercise the buy-back option.