Midday Stock Roundup
Thursday, May 4, 2017
Share this article: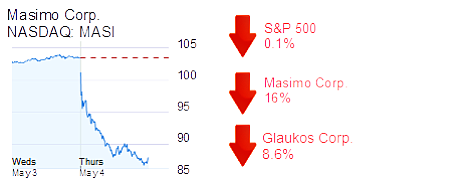 The S&P 500 was down 0.1% in midday trading to 2,386.96.
The Dow Jones Industrial Average was down 0.1% to 20,927.91.
The NASDAQ was down 0.1% to 6,069.70.
The yield on a 10-year Treasury bond was up 2.1% to 2.36%.
The price of gold fell 1.5% to $1,230.
HEALTHCARE
Masimo Corp. in Irvine was down 16% to $87.02 and a $4.5 billion market cap. Revenue and earnings were up for the maker of patient monitoring devices but missed analyst expectations. Masimo shares have doubled over the last 12 months.
Glaukos Corp. in San Clemente was down 8.6% to $43.54 and a $1.5 billion market cap. The company, which makes a stent to treat glaucoma, said net sales were up 55% in its most recent quarter but net income was flat and income from operations declined. Operating expenses were up 57% as the company hired sales, marketing, and administrative staff in the U.S. and elsewhere.
ChromaDex Corp. in Irvine was up 4.5% to $3.70 and a $139.1 million market cap. The ingredients maker said it would report its most recent quarterly results on Thursday, May 11.
Nemus Bioscience Inc. in Costa Mesa was up 27% to 33 cents and an $8.5 million market cap. Nemus said Schneider Brothers Ltd in London bought 1 million preferred shares; Nemus got $20 million; the preferred shares can convert to common stock at 30 cents a share. Nemus is developing cannabinoid-based drugs and plans to use the money to fund its research and development.
FINANCE
Banc of California Inc. in Santa Ana was down 3.5% to $20.08 and a $1.1 billion market cap. Analysts at Keefe Bruyette & Woods downgraded the bank holding company's shares to "market perform" with a $22 price target.
TECHNOLOGY
Smith Micro Software Inc. in Aliso Viejo was down 12% to $1.02 and a $12.5 million market cap. The maker of mobile and wireless software said revenue in its most recent quarter fell to $5.6 million, compared with $7.2 million in the same period last year; gross profit declined about 15% and its net loss narrowed to $2.2 million, from $3.7 million year-over-year.
SERVICES
Collectors Universe Inc. was down 6.2% to $24.87 and a $221.8 million market cap. The coin and collectibles authenticator said revenue and operating income in its most recent quarter were each up about 7%.