Del Taco Up In Q1
Thursday, May 4, 2017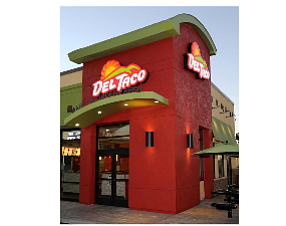 Del Taco Restaurants Inc. in Lake Forest earned net income of about $4 million on revenue of $105 million in the first quarter, compared with the same period last year.
The numbers were up by about 33% and 4%, respectively.
Same-store restaurant sales—a key restaurant chain metric—at the Mexican-themed fast food chain grew 4% at company-owned locations and 4.2% systemwide in the quarter, year-over-year.
Del Taco has seen several years of consecutive quarterly same-store sales growth.
Del Taco in the first quarter opened three new franchised restaurants and sold five company-owned locations—two in San Diego and three in Atlanta—to franchisees.
Del Taco had 554 restaurants as of March 28—with 310, or 56%, company-owned.
Restaurants chains have in recent years begun to move toward having most of their locations owned by franchisees.
The company said 2017 revenue is expected to be between $466 million and $476 million.
It had $452 million in revenue last year.