Coffee Co. Taps Two
Thursday, May 4, 2017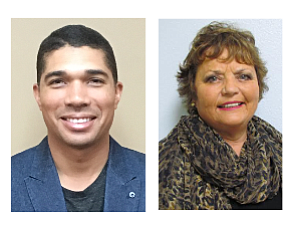 Retail Food Group USA in Santa Fe Springs has brought on two executives to boost its wholesale and retail coffee businesses.
RFG is the North American unit of an Australia-based restaurant and food company with about a dozen brands and a roughly $720 million market cap. Its local unit runs coffee roaster Di Bella Coffee LLC and two chains: It's A Grind and Gloria Jeans Coffees.
Keethan Kitt directs business development for Di Bella. Laina Sullivan directs franchise development for the two chains.
Kitt has worked for Portland, Ore.-based Stumptown Coffee Roasters and Santa Cruz-based Verve Coffee Roasters. Sullivan has led franchising for Yogurtland Franchising Inc. in Irvine and, as a consultant, for Juice It Up, also in Irvine.
RFG USA plans to market Di Bella to high-end resorts, restaurant chains and cafes. The two coffee restaurant chains it owns have 18 and 55 units in the U.S., respectively, and locations overseas. Combined systemwide sales at the chains are an estimated $33 million.
For more on RFG USA see this week's print edition of the Business Journal.