Taco Bell Profit Up 19%
Wednesday, May 3, 2017
Share this article: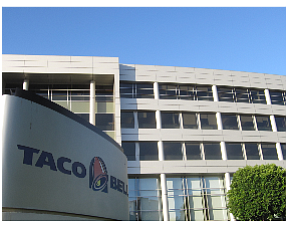 Core operating profit at Taco Bell Corp. in Irvine grew 19% year-over-year in the first quarter of 2017, topping the 9% overall growth at parent company Yum Brands Inc.
The Mexican-themed fast food chain's operating profit climbed to $141 million, compared with $118 million a year earlier.
Taco Bell same-store sales grew 8%, systemwide sales grew 12%, and the chain opened 54 new restaurants in the quarter, Yum said.
Yum, which is based in in Louisville, Ky., owns KFC and Pizza Hut in addition to Taco Bell.
KFC Q1 operating profit was up 12% to $207 million, compared with $185 million in the same time last year, and same-store sales grew 2%.
Pizza Hut operating profit was down 9%, falling to $83 million in the quarter from $91 million year-over-year, and same-store sales fell 3%.
Yum Chief Executive Greg Creed said the company will put $130 million into equipment, technology, and ads for Pizza Hut in a bid to reverse several quarters of poor performance at the pizza chain.
Yum invested $180 million in KFC upgrades in 2015 and the chicken chain has had 11 quarters of same-store sales growth, a news report said.

Yum runs about 44,000 restaurants in 135 countries and territories.
Taco Bell has about 7,000 locations, most of which are in the U.S.