Midday Stock Roundup
Wednesday, May 3, 2017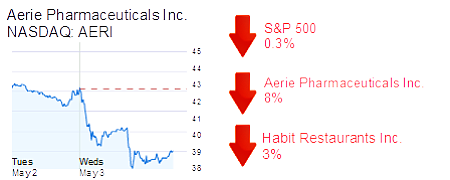 The S&P 500 was down 0.3% in midday trading to 2,384.64.
The Dow Jones Industrial Average was down 0.1% to 20,930.92.
The NASDAQ was down 0.5% to 6,064.69.
The yield on a 10-year Treasury bond was flat at 2.3%
The price of gold fell 0.6% to $1,249.
HEALTHCARE
Irvine-based Aerie Pharmaceuticals Inc. was down 8% to $38.70 and a $1.3 billion market cap. It posted a net loss of about $26 million in the first quarter, compared with a net loss of about $23 million year-over-year. The higher loss was due to hiring at the development-stage eye care drug company, which said clinical trials and regulatory submissions are on-schedule, as is full-year guidance on cash burn, which in 2017 is projected at about $100 million. It had $208 million in cash, equivalents, and investments as of March 31.
ChromaDex Corp. in Irvine was down 7% to $3.55 and a $135 million market cap. Shares in the ingredients maker rose about 19% yesterday on volume about four times its 90-day average.
NuGene International Inc. in Irvine was up 15% to 16 cents a share and a $7 million market cap on high volume. The company makes skin care products.
RESTAURANTS
Habit Restaurants Inc. in Irvine was down 3% to $18.67 and a $606 million market cap. The fast-casual burger chain is expected to report results after markets close today.
FINANCE
Capital Bank in San Juan Capistrano was up 29% to $29.80. It agreed to be bought by Seacoast Commerce Banc Holdings in San Diego for about $60 million.