Journal Honors 5 Female Leaders
Tuesday, May 2, 2017
Share this article: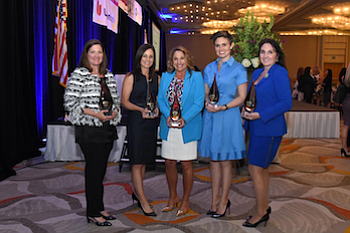 About 750 people gathered at Hotel Irvine on Tuesday for the Business Journal's 23rd Annual Women in Business Awards ceremony. The event celebrates the accomplishments of the county's standout businesswomen.
Robin Follman-Otta, chief executive of Markall Inc. in Santa Ana and former Women in Business winner, delivered the keynote address. Follman-Otta also serves as a chief operating officer of R.A. Industries LLC and Katmai Lodge Alaska.
The 2017 honorees, selected from a pool of 191, are:
• Kate Duchene, chief executive at RGP in Irvine
• Shannon Eusey, founder and president of Beacon Pointe Advisors in Newport Beach
• Suzanne Richards, chief executive of healthcare operations at KPC Healthcare Inc. in Santa Ana
• Pamela Jung, chief executive Healthcare Talent and Workforce Solutions Group in Foothill Ranch
• Melissa Beck, chief executive at Big Brothers Big Sisters of Orange County and the Inland Empire in Santa Ana
The Business Journal will profile the award winners in its May 15 print edition.