Ex-Airport FBO in Suit Vs. County, Board
Friday, March 31, 2017
Share this article: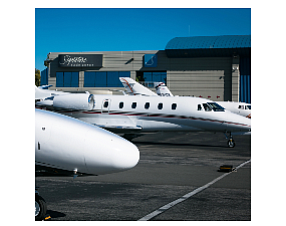 An affiliate of Signature Flight Support Corp. petitioned Orange County Superior Court on Wednesday to overturn the results of an Orange County Board of Supervisors vote that would replace its operations at John Wayne Airport with services provided by a new company.
Signature is one of two fixed-base operators at JWA; FBOs lease space at the airport to provide fuel, maintenance, parking and other services to charter air carriers and private aircraft owners.
Supervisors on February 27 voted to replace Signature with ACI Jet, a changeover scheduled to take place Saturday.
Signature on March 7 filed a formal complaint with the Federal Aviation Administration that alleged improprieties in the process.
An FAA spokesperson said via email "we received the … complaint and are investigating," a process that "typically takes around six months to complete."
The new court filing "ask(s) the court to reverse the illegal actions taken by [supervisors] to replace Signature," according to an emailed statement by Geoff Heck, Signature senior vice president of sales and marketing.
Signature didn't ask for an injunction to block ACI's assumption of responsibility over the FBO.
Supervisors said in an emailed statement its selection of ACI Jet wasn't illegal and the Board, "is responsible to make the selection that best meets the needs of the service required."
The County declined comment on the new filing.
ACI Jet Chief Executive Bill Borgsmiller said in an email, "The entire process was thorough and fair."
The case, "Signature Combs Inc. vs. County of Orange," names the County and the Board of Supervisors as respondents and ACI Jet's owner, Aviation Consultants Inc., and Newport FBO Two LLC, which operates a second JWA FBO under the name Atlantic Aviation, as parties of interest.
Signature's legal counsel in the matter is Manatt, Phelps & Phillips LLP in Costa Mesa.
For more details on John Wayne's FBO operations, see Monday's edition of the Business Journal.