El Pollo Loco Grows Texas Deal
Tuesday, March 28, 2017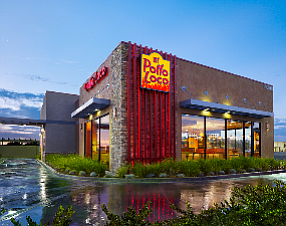 El Pollo Loco said a Texas franchisee has agreed to nearly triple the number of units the local operator will open.
The Costa Mesa-based fast food chicken chain said Chicken Time Holdings LLC is committed to 20 locations, up from seven when the group came on board in 2015.
Chicken Time is an affiliate of Henry Investment Group, a family office in Dallas. Its first El Pollo Locos were in Dallas-Fort Worth, where it now plans a total of 10 units. It plans to build 10 more between Austin and Waco.
The 20 locations are scheduled to open over the next five years.
El Pollo Loco has about 460 restaurants in California, Arizona, Nevada, Texas and Utah. The chain has aimed at expansion in the Southwestern U.S. since its mid-2014 initial public offering. Its Texas growth has allowed it to pursue states beyond Texas, and it now also seeks multiunit operators in New Mexico, Oklahoma, Arkansas, and Louisiana.
It can cost up to $800,000 to open a franchised El Pollo Loco, excluding real estate. The single-unit franchisee fee is about $40,000. Average unit volume is about $2 million.