Midday Stock Roundup
Monday, March 27, 2017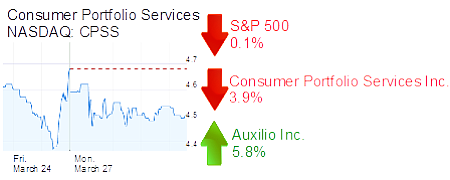 The S&P 500 was down 0.1% in midday trading to 2,341.27.
The Dow Jones Industrial Average fell 0.3% to 20,536.53.
The NASDAQ was up 0.1% to 5,832.11.
The yield on a 10-year Treasury bond fell 1.2% to 2.37%.
The price of gold rose 0.6% to $1,256.
FINANCE
Consumer Portfolio Services Inc., a retail automobile loan servicer in Irvine, fell 3.9% to $4.50 and a $106 million market cap on above-average volume. Its shares have climbed 36% from its 52-week low last June.
HEALTHCARE
Mission Viejo-based Auxilio Inc. increased 5.8% to $4.76 and a $39 million market cap. Auxilio, which provides document and cybersecurity services to hospitals, is scheduled to release fourth-quarter results after the markets close today.