Chapman Names New Trustees, Governors
Monday, March 13, 2017
Share this article: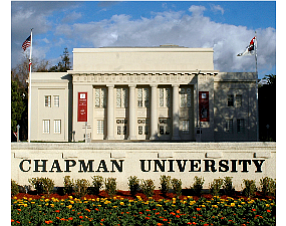 Chapman University today named the newest members of its Board of Trustees and Board of Governors.
The new trustees are Richard Afable, chief executive of St. Joseph Hoag Health; Gavin Herbert Jr., chief executive and co-owner of Roger's Gardens; and James Peterson, chief executive of Microsemi Corp. The new members will join a 40-member board.
The new governors are two Chapman alums, Dustin Kemmerer, president of Park West Landscape Management, and attorney John Sanders, as well as Robin Follman-Otta, who has a deep background in the arts.
She's chief executive of Santa Ana-based Markall Inc., a private family business that does fabrication and repair, and chief operating officer of its manufacturing arm, RA Industries LLC, a full-service, female- and minority-owned engineering and fabrication center.
The new members will join a 27-member board.
All the new trustees and governors are additions. They are not replacing anyone, according to a university spokesperson.