Alteryx Prices IPO
Monday, March 13, 2017
Share this article: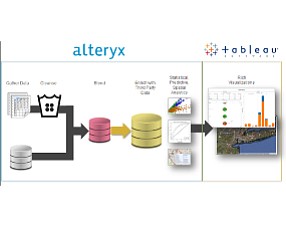 Irvine-based analytics software maker Alteryx Inc. will sell 9 million shares of Class A common stock valued between $12 and $14 per share under terms of its initial public offering, according to a filing today with the Securities and Exchange Commission.
The company projects net proceeds from the offering of nearly $106 million, or roughly $122 million if underwriters exercise their option to purchase additional shares in full, based upon an assumed initial public offering price of $13 per share, the midpoint of the price range.
The pricing indicates a market value for Alteryx in the upwards of $600 million, confirming earlier estimates by the Business Journal.
The company has applied to list on the New York Stock Exchange under the ticker symbol AYX.
Alteryx backers include Newport Beach-based Toba Capital, Insight Venture Partners, Sapphire Ventures, Thomson Reuters and ICONIQ Capital, among others.
The IPO is being underwritten by Goldman, Sachs & Co., J.P. Morgan Securities LLC, Pacific Crest Securities, William Blair & Co., JMP Securities, Raymond James & Associates, and Cowen and Co.
Alteryx was the No. 19 largest software maker in Orange County last year with 120 local workers, according to Business Journal research.