Grand Californian Gets Redo
Thursday, March 9, 2017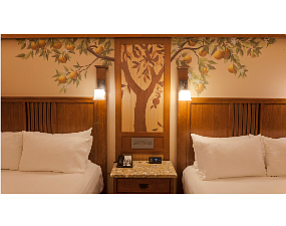 Disney's Grand Californian Hotel & Spa in Anaheim is being renovated with changes to its guest rooms, lobby, pool and other areas in "the most extensive refurbishment since" the 948-room property opened in 2001.
Grand Californian has been a AAA "four diamond" location each year since it opened and is one of three hotels at Disneyland Resort, which is owned and operated by Burbank-based Walt Disney Co.
The first batch of renovated guest rooms debuts this spring; work is expected to finish by year's-end.
General Manager Dan Coleman said changes include new bedding and linens, new bathroom fixtures, new oak furniture and headboards with wood inlays. Pools get natural stonework and new hardscaping; the Craftsman Club lounge will see new hardwood floors, custom rugs and new artwork.