Midday Stock Roundup
Wednesday, March 8, 2017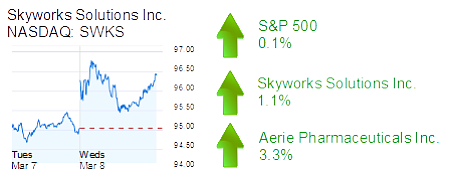 The S&P 500 was up 0.1% in midday trading to 2,370.10.
The Dow Jones Industrial Average was down 0.1% to 20,912.29.
The NASDAQ was up 0.4% to 5,855.39.
The yield on a 10-year Treasury bond rose 1.5% to 2.55%.
The price of gold fell 0.5% to $1,210.
TECHNOLOGY
Skyworks Solutions Inc. in Irvine was up 1.1% to $96.10 and an $18 billion market cap. The semiconductor maker's shares were upgraded to "buy" with a $110 price target by Mizuho and begun at "outperform" and a $118 price target by Wells Fargo. Skyworks got price target hikes yesterday at Barclay's, Canaccord Genuity and Goldman Sachs.
HEALTHCARE
Aerie Pharmaceuticals Inc. in Irvine was up 3.3% to $51.60 and a $1.7 billion market cap. The developmental-stage eye-care drug maker yesterday reported an expected quarterly and annual loss but said its $85 million in "burn rate" last year was in-line with expectations and that it has $234 million in cash or cash equivalents with an expected 2017 burn rate of $100 million. It filed a resubmitted application for one drug on Feb. 28 and said it expects the FDA to take about a year to review the bid.
Alliance Healthcare Services Inc. in Newport Beach was down 3.5% to $9.60 and a $103 million market cap. The radiology and oncology services provider is scheduled to report results tomorrow after markets close.
RETAIL
Boot Barn Holdings Inc. in Irvine was up 6% to $10.30 and a $271 million market cap on above-average volume. The company runs a chain of western wear and boots stores.