Midday Stock Roundup
Tuesday, March 7, 2017
Share this article: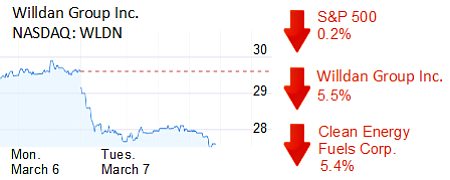 The S&P 500 was down 0.2% in midday trading to 2,371.72.
The Dow Jones Industrial Average fell 0.1% to 20,936.84.
The NASDAQ was flat at 5,847.63.
The yield on a 10-year Treasury bond rose 0.01% to 2.51%.
The price of gold fell 0.7% to $1,217.
SERVICES
Willdan Group Inc. in Anaheim was down 5.5% to $28.00 and a $235 million market cap. The engineering consulting company plans to release its fourth-quarter results March 9 after the markets close. Its shares have climbed three-fold in the past year.
TECHNOLOGY
Clean Energy Fuels Corp. in Newport Beach was down 5.4% to $2.54 and a $348 million market cap on moderate volume. Shares have settled about 15% in the last week since the operator of natural gas fueling stations said it would sell its renewable natural gas facilities for $155 million to BP.
HEALTHCARE
Cyroport Inc. in Irvine was up 4.5% to $3,70 and a $65 million market cap. The company, which provides cryogenic shipping to life sciences companies, plans to report fourth-quarter earnings next week; its shares are up about three-fold from its 52-week low last March.