Bank Shifts Funds for Stadium Deal
Tuesday, March 7, 2017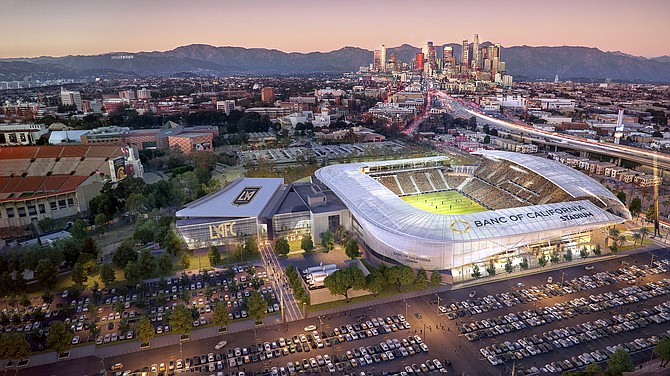 Irvine-based Banc of California plans to reallocate $3.5 million in sponsorships to partially offset the costs for the naming rights to the new $350 million stadium of the Los Angeles Football Club.
The bank will take $2.4 million from its direct sponsorships, $700,000 from its community reinvestment act funds and another $400,000 from other sponsorship-related costs, according to a presentation scheduled for today at the Sandler O'Neill West Coast Financial Services Conference in San Diego. The presentation didn't indicate which other bank sponsorships would be affected.
The bank is spending about $100 million over 15 years for the naming rights to the soccer stadium, according to its annual report filed last week. The rights include opportunities such as co-lead for stadium construction financing, significant deposits, and co-branded, team-themed credit and debit cards, the company said.
The presentation also said Banc of California plans to exit extra executive office space and to sub-lease office spaces for additional income.
The bank last year purchased a new headquarters for $76.4 million in Santa Ana. Last week, it announced it would cut its workforce almost in half to fewer than 950 by selling its home loan unit. The bank currently has its headquarters in Irvine and an executive office in Santa Monica where prior Chief Executive Steve Sugarman has worked.