Midday Stock Roundup
Thursday, March 2, 2017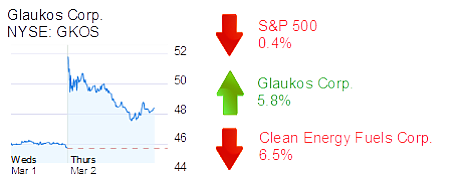 The S&P 500 was down 0.4% in midday trading to 2,386.62.
The Dow Jones Industrial Average was down 0.3% to 21,058.89.
The NASDAQ was down 0.5% to 5,877.23.
The yield on a 10-year Treasury bond rose 1.3% to 2.49%
The price of gold fell 1.3% to $1,233.
HEALTHCARE
Glaukos Corp. in San Clemente was up 5.8% to $48.46 and a $1.6 billion market cap. The glaucoma treatment device maker reported revenue and income that exceeded analysts' expectations.
TECHNOLOGY
Clean Energy Fuels Corp. in Newport Beach was down 6.5% to $2.67 and a $366 million market cap on above-average volume. Shares had risen 17% yesterday after the operator of natural gas fueling stations said it would sell its biomethane production operations.
SERVICES
Willdan Group Inc. in Anaheim was up 4% to $30.07 and a $250 million market cap on high volume. The engineering consultant is scheduled to report quarterly and full-year results on March 9.