Midday Stock Roundup
Wednesday, March 1, 2017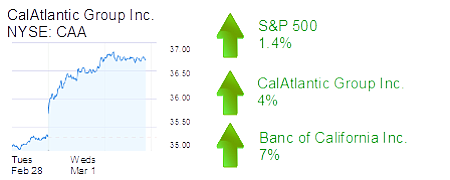 Markets were up strongly in midday trading in a positive response to an address by President Donald Trump to Congress yesterday.
The S&P 500 was up 1.4% to 2,396.09. The Dow Jones Industrial Average was up 1.5% to 21,118.57. The NASDAQ was up 1.3% to 5,898.02.
The yield on a 10-year Treasury bond rose 4.2% to 2.46%
The price of gold fell 0.7% to $1,245.
REAL ESTATE
OC home builders were up following the president of the New York Federal Reserve's comments that a strong U.S. economy made an interest rate hike this month "more compelling."
CalAtlantic Group Inc. in Irvine was up 4% to $36.74 and a $4.3 billion market cap. Tri Pointe Group Inc. in Irvine was up 3.7% to $12.38 and a $2 billion market cap. William Lyon Homes in Newport Beach was up 6.3% to $19.59 and a $607 million market cap. New Home Co. Inc. was up 5.7% to $11.04 and a $222 million market cap.
FINANCE
Banc of California in Irvine was up 7% to $20.81 and a $1 billion market cap. The bank holding company said it would sell its residential lending operations, which accouns for about half of its 1,800 or so jobs.
TECHNOLOGY
Clean Energy Fuels Corp. in Newport Beach was up 13% to $2.85 and a $380 million market cap. The firm said it would sell its biomethane production operations to focus on running its network of natural gas stations.