CSUF President Gets Diversity Nod
Wednesday, March 1, 2017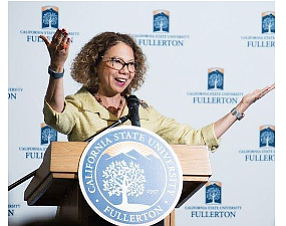 California State University-Fullerton President Mildred García will receive the 2017 Reginald Wilson Diversity Leadership Award on March 14 from the American Council on Education in Washington, D.C., the group said.
Reginald Wilson is the council's senior scholar emeritus and founding director of its office of minority concerns. The award goes annually to an individual who has "made outstanding contributions and demonstrated sustained commitment to diversity in higher education."
The council said Garcia is a first-generation college student and an advocate for increasing diversity at all levels of the university and surrounding community.
She established a Student Success Center in each of the university's eight colleges to provide support and services to increase graduation rates, reduce the time to earn a degree and narrow the achievement gap for under-represented students.
The graduation rate for first-time freshmen rose to 63% in 2016, the highest in the university's history, CSUF said.
The council was founded in 1918 and is "the major coordinating body for all the nation's higher education institutions, representing nearly 1,800 college and university presidents and related associations."