Midday Stock Roundup
Wednesday, June 21, 2017
Share this article: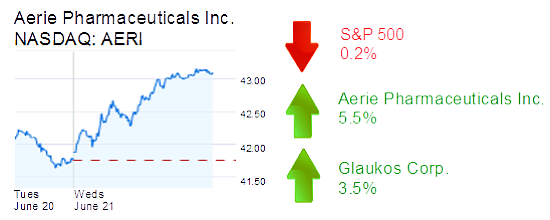 The S&P 500 was down 0.2% in midday trading to 2,431.13.
The Dow Jones Industrial Average was down 0.3% to 21,395.14.
The NASDAQ was up 0.5% to 6,218.28.
The yield on a 10-year Treasury bond rose 0.1% to 2.16%.
The price of gold was up 0.2% to $1,246.
HEALTHCARE
Aerie Pharmaceuticals Inc. in Irvine was up 5.5% to $53.25 and a $1.9 billion market cap on moderate volume. The clinical-stage pharmaceutical is developing two drugs to treat glaucoma and other eye diseases.
Glaukos Inc. (NYSE: GKOS) in San Clemente was up 3.5% to $43.26 and a $1.5 billion market cap. The maker of a stent to treat glaucoma said a recent study that included its product reported positive results in an ophthalmology journal.
TECHNOLOGY
Clean Energy Fuels Corp. (NASDAQ: CLNE) in Newport Beach was down 4% to $2.38 and a $358 million market cap. It runs natural gas fueling stations.
RETAIL
Tilly's Inc. (NASDAQ: TLYS) was down 5% to $9.47 and a $273 million market cap. Tilly's runs a chain of youth apparel stores.
SERVICES
Willdan Group Inc. (NASDAQ: WLDN) in Anaheim was down 3.2% to $29.61 and a $255 million market cap on above-average volume.