Acorn Cracks WSJ Top 25
Friday, June 16, 2017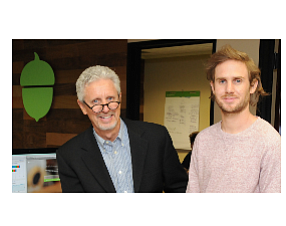 Irvine's Acorn Grows Inc. ranked No. 22 on the Wall Street Journal's list of "Top 25 Tech Companies to Watch."
The firm's "Acorns" app permits users, for $1/month, to automatically invest spare change in ETFs like Vanguards S&P 500.
Veteran OC investors Walter Cruttenden and his son Jeffrey Cruttenden grew Acorn Grows in one year to more than 850,000 accounts and $150 million invested.
Acorn Grows launched its app in 2014 and last year started a program, Found Money, with partners that included Hulu and Walmart. In the latter, a retailer automatically rounds up a customer's change and invests that amount in Acorns ETFs via the app, which is connected to the customer's bank account.
The Journal list shines light on companies under six years old with the potential to grow. Factors in the Startup Top 25 were founders' experience, track record and buzz about the firm. Commerce, CA's Hollar, Inc., which calls itself an online dollar store, rated No. 1 in ecommerce.
Acorns Grow had raised at least $62 million in venture capital backing as of April 2016.