NB Manufacturer a Crowdfunded First on NASDAQ
Thursday, June 15, 2017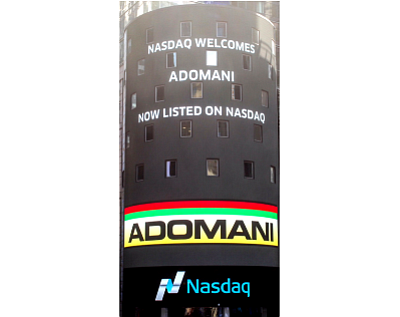 Shares of Newport Beach-based ADOMANI Inc. surged this morning on its debut on the NASDAQ Capital Market after becoming the first equity crowdfunded company to list on the tech heavy exchange.
Investors sent shares up $2.60 after the manufacturer announced it has closed its Regulation A common stock offering, raising about $9.2 million in net proceeds.
The company, traded under the ticker symbol "ADOM," sold more than 2.5 million shares at $5 per share, earning a distinction that no other company can claim.
ADOMANI, which converts school buses and other fleets into zero-emission electric and hybrid vehicles, raised the IPO through flashfunders.com.
The underwriter is Irvine-based Boustead Securities LLC, a sister company of FlashFunders Inc. in Santa Monica.
FlashFunders typically charges companies 5% of total funds raised.
ADOMANI market value is not available at this time, but the company had projected an initial cap of about $365 million.
The company raised the funding through a provision in the Jumpstart our Business Startups Act, which was signed into law in 2012 by President Barack Obama and allows crowdfunded companies to issue securities.
A central goal of the JOBS Act centered on expanding access to capital for entrepreneurs and emerging companies. Under the law's Regulation A+ of Title IV—adopted by the Securities and Exchange Commission about two years ago—private growth-stage companies can raise up to $50 million from nonaccredited investors, essentially the general public.
Typical IPOs raise money from institutional investors, such as investment banks and pension funds, and from accredited investors, or those with annual income above $200,000 or net worth of over $1 million. The SEC estimated in late 2015 that 4% of the U.S. population met that threshold, adjusting for inflation.
Time, cost, compliance and opportunity were the prevailing factors that led ADOMANI to test the emerging funding mechanism.
The company said it will use the proceeds to boost design, manufacturing and marketing of its zero-emission electric and hybrid drivetrains for new vehicles and existing vehicles, including school bus, medium and heavy-duty commercial fleet vehicles.
ADOMANI developed a drive train that converts an internal combustion engine into an electric motor assembly.
Chief Executive Jim Reynolds called the IPO a "milestone achievement" that will help the company grow quickly in a transformative time in the market.
ADOMANI is close to finalizing several partnerships as it seeks its first orders, Reynolds told the Business Journal earlier this month.
Last year it posted a net loss of $10.7 million, with a working capital deficit of $3.4 million.
The manufacturer employs 10 at its Newport Beach headquarters, a production facility in Orange where it handles research and development, battery testing and prototypes, and at an office in Milpitas.
ADOMANI's IPO is Orange County's fifth since February after years of drought.