JWA Revenue, Income Up
Monday, June 5, 2017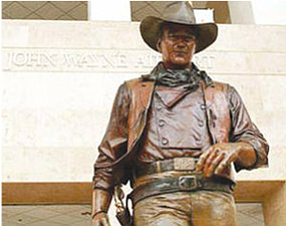 John Wayne Airport's annual report shows revenue and income grew in 2016 compared with the prior year, while expenses held steady.
The airport is owned by Orange County; OC's fiscal year runs July 1 through June 30.
JWA's audited statement of operations—annual revenue and expenses—showed:
Operating revenue of $129.2 million, up 5.5% from 2015's $122.4 million
Operating expenses of $111.9 million, up 0.5% from 2015's $111.3 million
For operating income of $17.3 million, up 55% from 2015's $11.1 million
Parking and concessions were the two largest revenue generators and combined for 55% of operating revenue; landing fees and terminal rental contributed 29%. Aircraft tie-down revenue—generated largely by individuals who own small planes—contributed 1%.
A separate category for "non-operating revenue" includes line items such as interest income, fines, and the passenger facility charge; non-operating revenue more than doubled to $15 million, up from $7.3 million in 2015.
The passenger facility charge is a ticket fee airports collect to pay projects approved by the Federal Aviation Administration; the fees are capped at $4.50 per flight.
The JWA PFC is $4.50 for departing-flight passengers and its PFC revenue grew to $20.5 million in FY 2016, up 8.3% from 2015's $19 million.
Macias, Gini & O'Connell LLP in Newport Beach audited the annual report.