Midday Stock Roundup
Monday, July 31, 2017
Share this article: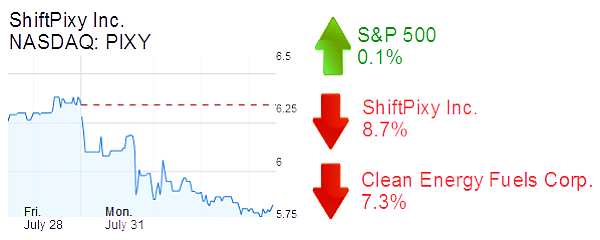 The S&P 500 rose 0.1% in midday trading to 2,473.85.
The Dow Jones Industrial Average climbed 0.4% to 21,914.86.
The NASDAQ was down 0.4% to 6,350.35.
The yield on a 10-year Treasury bond was up 0.1% to 2.29%.
The price of gold was down 0.1% to $1,274.
SERVICES
ShiftPixy Inc. (NASDAQ: PIXY) of Irvine fell 8.7% to $5.79 and a $166 million market cap. The maker of an app for restaurant shift workers went public on June 30, reaching an intraday high of $12.03 on July 5.
TECHNOLOGY
Clean Energy Fuels Corp. (NASDAQ: CLNE) of Newport Beach fell 7.3% to $2.65 and a $397 million market cap. The stock closed at $2.99 on July 25, its highest price since January. The website Motley Fuel on July 27 said that improving electric trucks and buses "could prove devastating to Clean Energy Fuels." The company reports its second-quarter results on Aug. 3.