Midday Stock Roundup
Thursday, July 20, 2017
Share this article: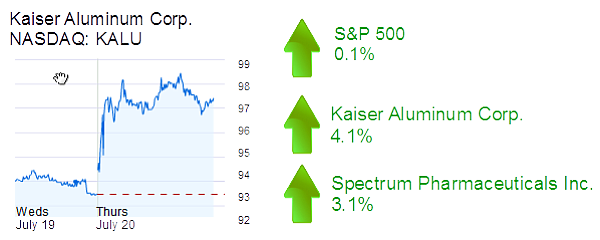 The S&P 500 was up 0.1% in midday trading to 2,475.69.
The Dow Jones Industrial Average was down 0.1% to 21,623.45
The NASDAQ was up 0.1% to 6,390.48.
The yield on a 10-year Treasury bond was down 0.4% to 2.26%
The price of gold was up 0.2% to $1,251.
MANUFACTURING
Kaiser Aluminum Corp. (NASDAQ: KALU) in Foothill Ranch was up 4.1% to $97.28 and a $1.7 billion market cap. The metals maker beat analyst expectations in a quarterly report yesterday.
HEALTHCARE
Spectrum Pharmaceuticals Inc. (NASDAQ: SPPI) in Irvine was up 3.1% to $8.11 and a $644 million market cap on above-average volume. The company makes drugs to treat cancer and blood disorders.
Biolase Inc. (NASDAQ: BIOL) in Irvine was down 4% to 81 cents and a $61 million market cap on high volume. The dental laser maker had by midday traded shares at a rate double its 90-day average.
TECHNOLOGY
Lantronix Inc. (NASDAQ: LTRX) in Irvine was up 6.2% to $2.40 and a $42 million market cap on moderate volume. The company makes secure connectivity products for the Internet of Things market.