Midday Stock Roundup
Monday, July 17, 2017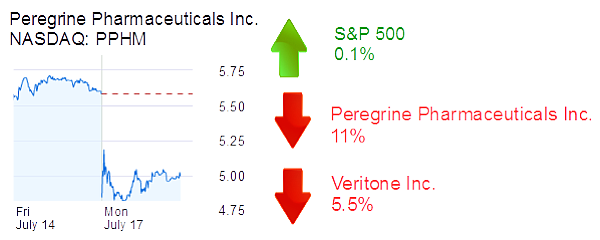 The S&P 500 was up 0.1% in midday trading to 2,462.60.
The Dow Jones Industrial Average was up 0.1% to 21,648.93.
The NASDAQ increased 0.1% to 6,317.15.
The yield on a 10-year Treasury bond declined 0.1% to 2.32%.
The price of gold rose 0.5% to $1,233.40.
HEALTHCARE
Peregrine Pharmaceuticals Inc. (PPHM) in Tustin dropped 11% to $4.99 and a $214 million market cap. After the market closed on July 14, Peregrine reported lower fourth quarter revenue and a wider loss than analysts expected. Shares of the company, which is developing drugs to fight cancer, had climbed 31% in the six trading days prior to the release.
TECHNOLOGY
Newport Beach-based Veritone Inc. (VERI) declined 5.5% to $9.47 and a $138 million market cap. The shares have steadily declined since its initial public offering at $15 in May. Veritone has an online ad-placement business and is trying to expand into artificial intelligence.