Midday Stock Roundup
Wednesday, July 12, 2017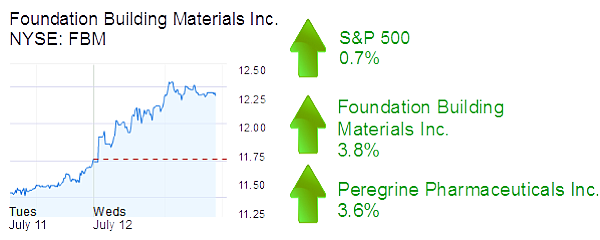 The S&P 500 was up 0.7% in midday trading to 2,443.59.
The Dow Jones Industrial Average was up 0.6% to 21,536.11.
The NASDAQ was up 1% to 6,254.44.
The yield on a 10-year Treasury bond fell 1.6% to 2.33%.
The price of gold rose 0.4% to $1,219.
REAL ESTATE
Foundation Building Materials Inc. (NYSE: FBM) in Tustin was up 3.8% to $12.21 and a $521 million market cap. The construction materials distributor in the last week bought two companies that supply similar materials in Missouri, Illinois, Kentucky and Virginia.
HEALTHCARE
Peregrine Pharmaceuticals Inc. (NASDAQ: PPHM) in Tustin was up 3.6% to $4.63 and a $197 million market cap. The drug company develops products to treat cancer. It completed a 1-for-7 stock split last Friday and will report quarterly results this Friday, after markets close.
SERVICES
CryoPort Inc. (NASDAQ: CYRX) was up 14.7% to $5.53 and a $134 million market cap on high volume. The company, which provides cryogenic freezing transport services to life sciences firms, had by midday traded shares at a rate about triple its 90-day average.