PBS Station Work Lauded
Monday, January 30, 2017
Share this article: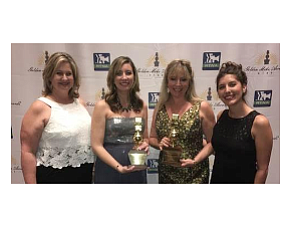 PBS SoCal KOCE was awarded two Golden Mike Awards by the Radio & Television News Association of Southern California at the 67th Annual Golden Mike Awards Presentation Dinner on Saturday.
"Bill W.: The Creative Force Behind Alcoholics Anonymous," was recognized for Best Documentary and LAaRT, PBS SoCal's weekly arts series, was recognized for Best Entertainment Reporting.
Bill W. is a documentary film about William Wilson, co-founder of Alcoholics Anonymous. The film traces his beginnings as an alcoholic on the brink of death, through his recovery, and on to his success forging a path of hope for others to follow.
The Best Entertainment Reporting award is given to an individual or team effort on a single entertainment story or series of stories on a single subject. LAaRT received the award for "KAYPA (Korean American Youth Performing Artists)," which highlights a performance group that uses dance to explore the beauty and uniqueness of Korean culture.
The Golden Mike Awards promote excellence in broadcast journalism. The panel of judges consists of broadcast news professionals.
PBS SoCal's coverage area encompasses six counties from the San Diego County line to Santa Barbara and from Los Angeles through the Inland Empire, to the desert cities. The station's headquarters and main studio are in Costa Mesa.