Midday Stock Roundup
Monday, January 30, 2017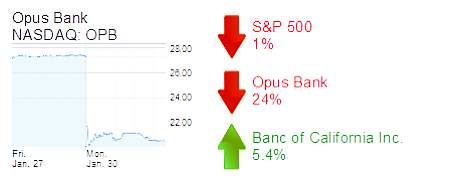 The S&P 500 was down 1% in midday trading to 2,272.34.
The Dow Jones Industrial Average was down 0.9% to 19,909.13.
The NASDAQ was down 1.1% to 5,596.64.
The yield on a 10-year Treasury bond rose 0.3% to 2.49%.
The price of gold rose 0.6% to $1,198.30.
FINANCE
Opus Bank in Irvine was down 24% to $20.65 and a $664 million market cap. J.P Morgan Chase & Co. downgraded shares in the Orange County-based bank to "neutral" from "overweight."
Banc of California Inc. in Irvine was up 5.4 % to $15.60 and a $775.8 million market cap. The bank holding company reported net income of $33.3 million on revenue of $183.5 million for the recent quarter; both numbers beat analysts' estimates.