Midday Stock Roundup
Wednesday, January 25, 2017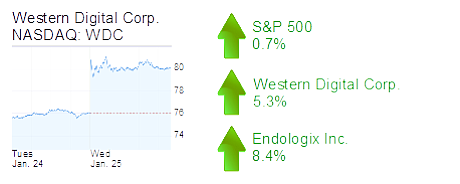 The S&P 500 was up 0.7% in midday trading to 2,296.01.
The Dow Jones Industrial Average was up 0.8% to 20,066.22.
The NASDAQ was up 0.8% to 5,648.06.
The yield on a 10-year Treasury bond rose 1.9% to 2.52%.
The price of gold fell 1.1% to $1,200.60.
TECHNOLOGY
Irvine-based Western Digital Corp. was up 5.3% to $80.03 and a market cap of $29 billion. The memory products maker plans to report quarterly earnings today; competitor Seagate Technology Plc yesterday posted a 67% increase in quarterly net income to $412 million, on revenue of $2.9 billion. RBC Capital reiterated an "outperform" rating on Western Digital with an $80 price target.
HEALTHCARE
Irvine-based Endologix Inc. was up 8.4% to $6.70 and a $540 million market cap. The medical device maker said the European Union reinstated the CE Mark for the AFX and AFX2 Endovascular AAA Systems.
RESTAURANTS
Irvine-based Habit Restaurants Inc. was up 6.7% to $15.15 and a $478 million market cap on high volume.