Midday Stock Roundup
By Paul Hughes
Tuesday, February 28, 2017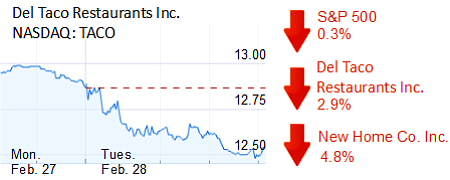 The S&P 500 was down 0.3% in midday trading to 2,363.01.
The Dow Jones Industrial Average was down 0.1% to 20.816.94.
The NASDAQ was down 0.6% to 5,826.76.
The yield on a 10-year Treasury bond fell 0.8% to 2.35%.
The price of gold fell 0.3% to $1,255.
RESTAURANTS
Del Taco Restaurants Inc. in Lake Forest was down 2.9% to $12.54 and a $475 million market cap on above average volume. Shares in the fast food chain are down 9% in the last two days; Del Taco plans to report quarterly numbers on March 13.
REAL ESTATE
New Home Co. Inc. in Aliso Viejo was down 4.8% to $10.25 and a $214 million market cap on above-average volume. The company develops land and builds homes.
TECHNOLOGY
Lantronix Inc. in Irvine was up 10.5% to $2.83 and a $49 million market cap on very high volume. The maker of data and security networking products had by midday traded shares at a rate triple its 90-day average; shares are up 70% year-to-date.