JWA 2016 Count: 10.5M Passengers
By Paul Hughes
Monday, February 27, 2017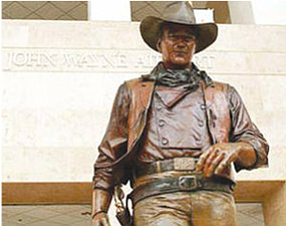 John Wayne Airport saw 10.5 million passengers in 2016, a 4.6% increase over its 2015 total of just more than 10 million passengers and a new record for the airport.
Airport traffic is currently capped at 10.8 million passengers annually.
The new record in 2016 bested last year's previous record number of annual passengers; the all-time high prior to 2015 was in 2007, when JWA had 9.98 million passengers, just before the recession took full hold here and nationally.
There were about 45,650 commercial flights from JWA last year—up 12% year-over-year.
December 2016 totals were about 871,000 passengers, up 1.4% year-over-year, and 3,800 commercial flights, up 5.8% year-over-year.
The international passenger total for the year was 351,000, up 21.5% compared with 2015, on about 2,000 flights, up 29%.
December's international totals declined year-over-year, with a passenger count of about 28,000 on 165 flights—down about 4% each, year-over-year.
The airport's three busiest airlines by passenger totals in December were Southwest Airlines, with 408,000; American Airlines with 133,000; and United Airlines with 110,000.