Midday Stock Roundup
By Paul Hughes
Thursday, February 23, 2017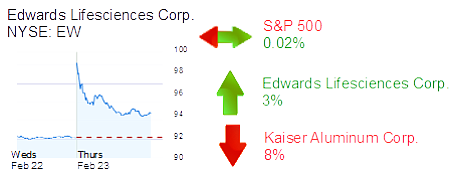 The S&P 500 was flat in midday trading at 2,362.50.
The Dow Jones Industrial Average was up 0.1% to 20,802.08.
The NASDAQ was down 0.5% to 5,830.85.
The yield on a 10-year Treasury bond fell 1.2% to 2.39%.
The price of gold rose 1.4% to $1,251.
HEALTHCARE
Edwards Lifesciences Corp. in Irvine was up 3% to $95 and a $20.6 billion market cap. Shares in the maker of heart valves opened this morning 9% higher after competitor Boston Scientific Corp. recalled all of its Lotus Valve heart valves in Europe and said the action will delay the device's launch in the U.S., as well.
CombiMatrix Corp. in Irvine was up 9.2% to $4.48 and an $11 million market cap. The maker of diagnostic tests reported quarterly revenue up 32% to $3.5 million, year-over-year, and a narrower loss of $560,000 in its most recent quarter compared with $1.7 million loss in the same period last year.
MANUFACTURING
Kaiser Aluminum Corp. in Foothill Ranch was down 8% to $75.60 and a $1.35 billion market cap following its disappointing quarterly report earlier this week.
RESTAURANTS
Del Taco Restaurants Inc. in Lake Forest was down 4.7% to $13.13 and a $499 million market cap on very high volume. Shares in the Mexican-themed fast food chain by midday traded at twice its 90-day average.