Midday Stock Roundup
By Paul Hughes
Friday, February 10, 2017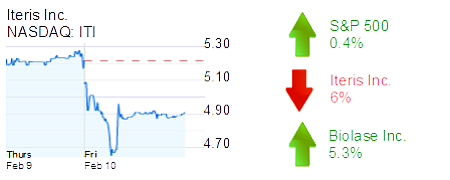 The S&P 500 was up 0.4% in midday trading to 2,317.10.
The Dow Jones Industrial Average was up 0.5% to 20,273.74.
The NASDAQ was up 0.4% to 5,738.87.
The yield on a 10-year Treasury bond rose 0.5% to 2.41%.
The price of gold fell 0.2% to $1,234.
TECHNOLOGY
Iteris Inc. in Santa Ana was down 6% to $4.90 and a $157 million market cap. The company lost $1.4 million on revenue of $22.7 million in its most recent quarter, compared with a loss, excluding one-time items, of $300,000 on revenue of $19 million year-over-year. Iteris makes products that collect data on transportation, weather, and agriculture.
HEALTHCARE
Biolase Inc. in Irvine was up 5.3% to $1.60 and a $108 million market cap. The dental laser maker said the FDA cleared a next-generation product for commercial distribution in the U.S.