Midday Stock Roundup
Thursday, February 9, 2017
Share this article: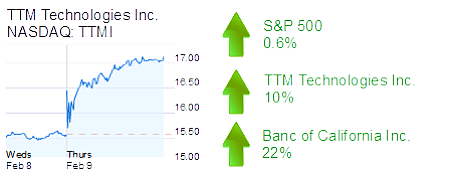 The S&P 500 was up 0.6% in midday trading to 2,308.68.
The Dow Jones Industrial Average was up 0.7% to 20,190.20.
The NASDAQ was up 0.6% to 5,717.89.
The yield on a 10-year Treasury bond rose 1.6% to 2.39%.
The price of gold fell 0.2% to $1,237.
TECHNOLOGY
TTM Technologies Inc. in Costa Mesa was up 10% to $17.03 and a $1.74 billion market cap. The printed circuit board maker reported quarterly adjusted net income of about $60 million on net sales of about $707 million, up 90% and 5%, respectively.
FINANCE
Banc of California Inc. in Irvine was up 22% to $19.77 and a $990 million market cap. A special committee of the bank holding company's board said that an investigation of a blogger's allegations of bank impropriety had found no violation of law and uncovered "no indirect or direct control or undue influence over the Company."
HEALTHCARE
Ensign Group Inc. in Mission Viejo was down 11% to $17.80 and a $901 million market cap. The post-acute care facilities operator reported quarterly revenue and income that miss analysts' estimates.