Midday Stock Roundup
By Paul Hughes
Wednesday, February 8, 2017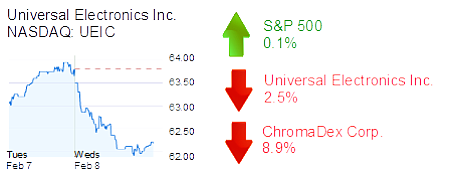 The S&P 500 was up 0.1% in midday trading to 2,294.33.
The Dow Jones Industrial Average was down 0.2% to 20,056.81.
The NASDAQ was up 0.1% to 5,680.56.
The yield on a 10-year Treasury bond fell 1.1% to 2.36%.
The price of gold rose 0.3% to $1,239.
TECHNOLOGY
Universal Electronics Inc. was down 2.5% to $62.21 and a $906 million market cap on moderate volume. The company makes wireless remote control products, software and accessories.
HEALTHCARE
ChromaDex Corp. in Irvine was down 8.9% to $2.49 and a $94 million market cap on high volume. The maker of nutritional ingredients had by midday traded shares at a rate double its 90-day average.