CPA Firms Combine
By Peter J. Brennan
Tuesday, February 7, 2017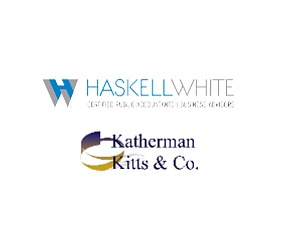 Certified public accountancy Katherman Kitts & Co. in Irvine said its entire team has joined Haskell & White, effective Feb. 1.
James Katherman and Stacie Kitts also are now partners at Haskell & White, which will total more than 75 professionals, a press release said. Haskell & White currently has nine partners and more than 70 professionals, according to its website.
The two companies are in the same building at 300 Spectrum Center Drive, the press release said.
Katherman Kitts' website said it works with high net-worth individuals and closely held businesses and helps clients with the U.S. tax implications of foreign transactions.